Here I am getting prepared for the swim. I started the swim on the beach where we would finish the swim portion of the race, and I swam out about 200m. What I did not know is that the current was running very strongly in from sea. That meant that my return swim was against about a 2 knot current. I stopped at a yellow buoy outside the Golden Gate Yacht Club, and I had to swim breaststroke hard just to stay in the same place.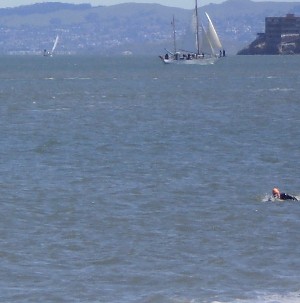 After this swim in the Bay, I practiced removing my wetsuit and did the run to the bike transition area wearing just running shoes. I made the decision that the idea of growing a beard and rubbing Vaseline in it was not required. I realized that the SF Bay temperature was warmer than Elk Lake that I had been practicing in, and it would be more important to keep cool in the bike and the run than to keep warm in the swim.
| | |
| --- | --- |
| | |
| Video of Swim Practice - .avi file (6 Mgs) | Video of T1 Practice - .avi file (2 Mgs) |
What did I learn from the Swim Practice on D-2?
As it turned out, I did not even notice that the water was cold during the race. I was more concerned with just choosing the best route, passing the slower swimmers and concentrating on keeping an effective stroke. It was a good thing that I shaved off the beard because the sweat poured off my face during the run up the sand stairs, and if I still had the beard and grease on my face, I would have really overheated!
Click Here for the link to my Facebook swim photos!