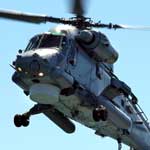 The Federal Government has grounded a billion dollar helicopter fleet and is considering scrapping it altogether.
Defence Minister Brendan Nelson has banned the troubled Seasprite helicopters from flying.
The fleet has been plagued with technical problems.
The Minister's spokesman says the problems involve flying at night, over water and in mists.
The Federal Government has spent $1 billion on the 10 helicopters, with one more yet to be delivered.
Dr Nelson ordered the review to determine whether the anti-submarine and shipping aircraft should be upgraded, which means spending more money, or they should be scrapped and a replacement sought.
The review comes just two weeks after the auditor-general reported another aircraft fleet, the Tiger Armed Reconnaissance Helicopters, were underpowered, unsafe and over-budget.
The Defence Minister ordered the review into the Super Seasprite helicopters several weeks ago when they were grounded because of software problems.
The review is due to report by the end of next month and will decide whether Defence should spend up to $200 million to make the Seasprites fully equipped for maritime warfare or spend more than $1 billion to buy a replacement.
Dr Nelson has been unavailable to talk about the matter.
Labor's defence spokesman, Robert McClelland, says that while it is the Defence Materiel Organisation that buys Australia's aircraft, it is the Minister who should accept responsibility for the cost blowouts and safety problems.
The Opposition's defence industry spokesman, Mark Bishop, also says it is not good enough.
"It really is scandalous that we buy major platforms and there is insufficient thought, insufficient preparation gone into their use here," he said.
The Government has ordered a review into the helicopters to decide whether to persist with the Nowra-based fleet or scrap it altogether.