For one weekend each year, 2,000 of the world's best triathletes assemble in San Francisco for one of the most infamous and extreme sporting events…the Escape from Alcatraz Triathlon. In its 29 years as a maximum-security prison, no one ever escaped alive from the menacing shores of Alcatraz. Every year, this popular event draws over 20,000 spectators to see who can accomplish that daunting task.

On Sunday, May 2, 2010, the Escape from Alcatraz Triathlon was packed with heart-pounding action featuring a 1.5 mile swim through frigid waters
from Alcatraz Island to shore, a grueling 18-mile bike race, and a demanding 8-mile run through the rugged trails of Golden Gate Recreation Area. Set against the natural beauty of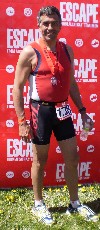 San Francisco, this thrilling triathlon is a virtual postcard of the City by the Bay.

Below, you will see the results for my Male 55-59 age group. An interesting thing to note is how strong all the swimmers were. In my recent triathlons, I have always come out of the water with a bit of a lead in my age group after the swim. In this race, I had an excellent 28 and a half minute swim holding a 1:05 per 100 yard pace (current assisted), but that only put me 5th in my age group (one guy who beat me in the swim did not make the top 10). When I finished my bike, I only saw only 1 bike in our M55-59 group's rack. It belonged to #1736 Ken Kuehn who ended up 2nd. Now that I look carefully at the results and the photos that Julie took, I see that there were 3 bikes down at the end of the row. Those bikes must have been 1755, 1756 and 1758 - the guys who came in 1st, 4th and 5th in my age group.
Trip Down Day 1
I departed after Monday morning Swim practice on April 26th. I had a relaxing breakfast, and then arrived at the MV Coho Ferry for the trip across the Strait of Juan de Fuca to Port Angeles WA. There was a major windstorm going on, and big branches were breaking off the trees and landing on the road as I approached Sequim WA. You can see a few of the photos of the Day 1 trip which ended in Portland OR.
Trip Down Day 1
Trip Down Day 2
On Tuesday April 27th, I departed Portland for the drive to San Francisco. There was a bit of rain, but after getting through the Portland morning rush hour traffic, the I5 was fairly clear and pleasant. It took about 11 hours and I arrived in SFO just after the evening rush hour so there were no lineups at the Bay Bridge. You can see a few of the photos of the Day 2 trip which ended in the San Francisco Bay Area.
Trip Down Day 2.
Run Preparation
On Wednesday April 28th, I checked out the start area, and then drove out to the 4-mile turnaround point at Baker Beach. I put on my running gear to start the run. I thought that it would be important to try the Sand Ladder at the 1/2 mile point instead of the 4and 1/2 mile point so that I could experience it when I was fresh. You can see the photos here.
Run Practice
Bike Preparation
On Thursday April 29th, I headed downtown just after the morning rush hour. I arrived and parked at the St Francis Yacht Club as this was the location where we would come ashore after the Alcatraz swim. I put the wheels on my bike with my new recently purchased Michelin ProRace3 tires. I went and chatted with one of the race organizers, and he showed me all the places on the course where I could hold some speed, and the locations of the dangerous turns. I then headed out to experience the course.
Bike Practice
Swim Preparation
On Friday April 30th, Julie had arrived in SFO, and she drove down to the St. Francis Yacht Club with me. I put on the wetsuit, and prepared my T1 spot so that I could practice taking off the wet suit and running the 1K to the bike wearing only running shoes. The water currents were very strong, and were in the opposite direction that they would be on race day.
Swim Practice
Escape Pre-Race & Race Day
After relaxing on Saturday, and going to the pre-race meeting, I was as prepared as I could be for this race. On race morning, we got up at 4:30, grabbed some coffee & toasted bagels and headed for SFO. We got there about 5:20, set up my T2 and handed in my bag for T1. Here is a link to some race day photos.
Race Day