RMC Class of 76 - Tales and photos from the 2008 Triathlon circuit
Swim, bike, run. Swim, bike run.
Triathlons are all the rage, but they require significant training, lots of sweat, and MILCOL-like discipline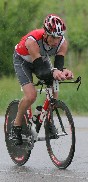 It's all the talk at the backyard barbecue and the chatter in the gym locker room. Competing in one of the many triathlons around the world is the fitness marker of our times. It is kind of like what running marathons was during the 1990s. With triathlon clubs proliferating and the excitement of Olympic action on TV, competing in a triathlon has become trendy. Three BC members of the 'Class of 76' have been involved, and you can click on any of the photo thumbnails for a larger image.
What does it take to compete? That depends on your goal. But for most beginners, the most popular triathlon is the sprint (750m swim, a 20 km bike, and a 5 km run). Those are attainable goals for people looking to stay in shape and have fun competing. The next level in the Olympic distance (1500m swim, a 40 km bike, and a 10 km run. That is the distance that Bob and Don competed at in the World Age Group Championships in Vancouver in early June 2008.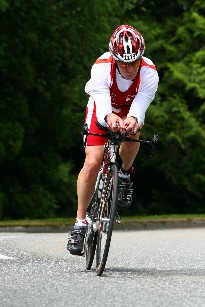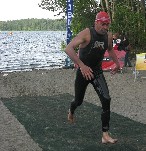 After the Olympic distance is the Half Ironman race (1900m swim, a 90 km bike, and a 21 km run). Don participated in two of these in 2008 (Oliver and Osoyoos), and John competed in the New Balance Half Iron in Victoria. Bob participated in this race as a member of a 3-person relay. The longest distance Tri is the full Ironman (3800m swim, a 180 km bike, and a 42 km run) and Bob is training for the Ironman Canada race in Penticton.
While longer triathlons are more about endurance, as well as getting enough water and nutrition while competing, even the shorter races require intense stamina. Core work, such as Pilates, is great for strengthening the back and abdominal muscles needed for competition.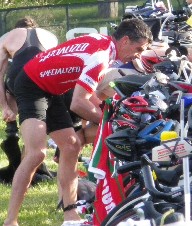 The open-ocean or lake swimming, though, is often the trickiest part of a triathlon. The open ocean swims can be frightening to those used to pools. New triathletes can also be caught off-guard by the sheer number of contestants in a race. When several hundred people all start swimming at once, the more aggressive swimmers tend to swim over the slower ones. People are swimming on your back and pushing you down. Under such conditions, triathlon veterans say that you should keep calm and either tread water or do a little breaststroke until the crowd clears.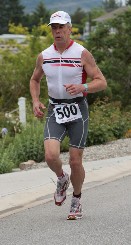 A proper fitting wet suit is a must, and adds buoyancy as well as warmth in the cold ocean or lake water. If you're wearing a wet suit, getting out of it and into your biking stuff takes time. Transition from swim to bike to swim (T1) can cost significant time and energy. You can't wait until the race to practice this transition. The transition from the bike to run (T2) can be another rough transition for athletes. Choosing the proper gear is also important.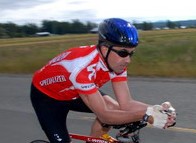 The right bicycle has a light frame and features like aerobars to rest hands and arms. For the run, light and comfortable running shoes are important.
The results can be worth the training, sweat, and discipline required. The very first time you complete a triathlon, the adrenaline flows hard and it can be an emotional high.
Here, Don describes his experience in one of his Half Ironman races this year: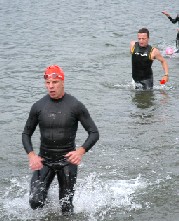 On Sunday, July 6, 2008, I jumped into Osoyoos Lake at 0700 with a couple of hundred people to start the swim portion of the Desert Half Ironman triathlon. This is a suitable name for the race as it takes place in Osoyoos BC – in the middle of a true desert! This race has become recognized as one of the toughest Half Ironman races in Canada due to the challenging 90 km bike ride through the mountainous terrain heading west out of Osoyoos. The race starts with a very warm and somewhat weedy 2 km swim in Osoyoos Lake followed by a 90 km 'out and back' bike ride over Richter Pass, which is what you face as soon as you hop on the bike - 11 km of relentless climbing followed by 7 healthy rolling 'hills' affectionately referred to as the '7 Bitches'. As you cycle the rollers, convection heating is occurring (sorry for the eng speak!) and you are greeted with nasty headwinds until the turnaround point at the 45 km mark. Then, you get to ride the bitches all over again, usually with a welcome tailwind, and attack the Richter Pass from the back side which is a tough unrelenting long climb. Scream into town at 70-80 km/hr and then head out into the heat for a half marathon run with leaden legs that eventually figure out that they can run again and then you settle into the zone and, as long as you pay good attention to nutrition, hydration and electrolytes, you will cross the finish line after some 5 ½ to 6 hours of hard work with a big smile on your face and huge sense of accomplishment. This is the second time I have done this race and it is a good character builder! I finished in a good time, as per my race plan, no flats, no injuries, a few 'owies' here and there and man….a cold beer never tasted so good as the one I had when I got home. Triathlons are not what you might think. All ages are welcome and all abilities. The community of triathlon is a welcoming, supportive and helpful one…however, it does become addictive. Even if you succumb to injuries of one sort or another, you can usually keep doing one or two of the other sports and stay in good shape
Next, John describes his experience in the Victoria Half Ironman race in June 08: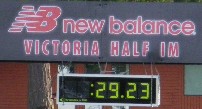 To set the scene for my first Half Iron Tri, we have to go back a few years. When I was posted to Monterey CA in the early 80s, I got into this new sport called Triathlon. My first race was called "Wildflower" in a small man-made lake called Lake San Antonio and I was in the water with all the guys who were 'names' in the sport. I remember Dave Scott, Mark Allen, Scott Tinley, the Molina brothers - Scott and Phil - and others who I had seen on TV on "Wide World of Sports". I swam with these guys, but that is where the race ended for me. Later in the 80s, I did a few military races and short triathlons around Halifax, but nothing long. My first and only long race was the '91 CF Championships held in Kingston ON where you qualified if you had a "top 20" performance in any race. I had come 20th in the
1991 Citizen's Tri in Kearney Lake Halifax
in a very short race (400 m swim, 9 km bike, and 3 km run). The K-Town Tri was 2000m swim, 55 km bike and 15 km run. I was doing lots of swimming, some biking and very little running. The longest that I had ever run in my life was a 10 km race. The swim went well, and I came out of the water with the pros. The bike was OK - a rolling course out past RMC to Gananoque but I was bagged at the end. The pros were almost finished the run when I was finishing T2 and heading out on the run course. We started out King Street and out Bath Road past the prisons and came back through Queen's and down Princess Street. I hit the wall at 10 km and could hardly walk. I managed to jog the final stretch down Princess Street, but decided that I would never do this again until I had time to properly train for the run!
Link to current K-Town maps
- slightly different run now.
Fast forward 16 years.
I signed up for the June 08 New Balance Half Iron in August 07 and started dedicated training in November. I joined 2 biking groups, joined 2 running groups, and continued swimming 6 days a week. I was fortunate to get a good bike from Peter Reid - the actual bike that he used in October 03 to win Ironman Hawaii in Kona. When I started running, I could not complete 10 km without walking. By February 08, I was completing the 10 km run in under an hour. By the Victoria Times Colonist 10 km race in April, I had my 10 km in the 45 min range, and then I started extending the distance to 20 km. The first time that I completed 20 km in under 2 hours was in late April. At that point, I knew that I could complete the Half Iron without walking any portion of the run.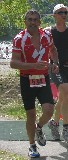 My goals were realistic - 5:30 neglecting transitions - 30 min swim, 3:00 bike and 2:00 run. As you can see from the table below, I was within 1 minute of each one of those goals, so I felt a sense of accomplishment at the end. My plan was to relax the swim, save myself on the early portion of the bike, and use what was left on the run. I had a bit of an 'adrenaline rush' at the start of the swim, and was 7th of about 300 around the 800 m buoy. So much for a relaxing swim. Early in the bike when we had done a net uphill portion, I looked at my average speed and saw it was 31.8 km/hr. I was breathing too hard, and said to myself "slow down or you are going to die in the run"! Remembering very well what 'death in the run' felt like, I slowed my average pace down to about 29.5 and just enjoyed the North Saanich scenery! Even after doing this, I still struggled in the final 10 km of the run. My first 10 km was 56 mins and I felt great. The photo to the right was taken after the 1st loop, and I was just receiving support from Bob and Carolyn who told me that I was looking great! The final 10 km was 1:04 - even with a good sprint for the final 2 kms at the end. I have already signed up for the New Balance Half Iron in June 2009, and my major goal is to try to improve the final portion of my run.
Bob and Don competed in the World Age Group Triathlon Championships in Vancouver in early June 2008. Bob and Carolyn can be seen in the photo on the right hand side posing with unknown athletes in Vancouver. Some guy named Simon W, who was born in Kingston Ontario in May 1975 while we were out on the RMC parade square doing Graduation Parade, wanted to get a photo with the well known "Triathlon Gebbies". Here is Bob's story about the Vancouver experience:
The Vancouver Worlds was truly an enjoyable experience despite the West Coast weather in June (white caps and frigid waters in English Bay – good times). My race results were fairly respectable with 24 out of 64 in my age group (better than my 2006 World's in Waikiki when the seat on my rented bicycle became loose and I had to do most of the bike course standing! Because my swim heat was cancelled, only Carolyn has bragging rights to this race. For Carolyn's race report go to her Coaching website: http://carolyngebbie.com/news/wild_and_wacky_weather_at_the_worlds.shtml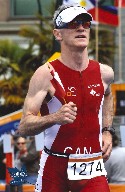 Both Carolyn and I have been competing in triathlons for 9 years. Carolyn loved the sport so much she left her legal secretary job of 25 years and became a nationally certified triathlon coach. We both run the triathlon club at the local YMCA.

I will be competing at Ironman Canada and Ironman Western Australia this year to raise funds for ALS research. I am dedicating both of my races to Jon "Blazeman" Blais because as we were told as cadets when the going gets tough, the tough get going. Here is Jon Blais's story:

* May 2005 - Jon, a youth worker, was diagnosed with ALS. His immediate reaction was to compete at Ironman Hawaii to raise ALS awareness even though he had never before raced the Ironman distance (3.8 km swim, 180 km bike, a full marathon);

* October 2005 - I watched Jon complete Ironman Hawaii notwithstanding that his body was racked in pain and partially paralyzed from ALS;

* October 2006 - Blazeman returned to Hawaii after raising millions for ALS and spectated at the race from a wheelchair; and

* April 2007 - Blazeman died from ALS.

I encourage Ex-Cadets to check out my website and give generously to the War on ALS http://www.active.com/donate/teamblazeman/BGebbie.

Here is the article that was submitted to eVeritas by Jack Harris: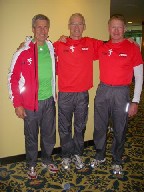 Several Ex-Cadets participated as part of the Canadian Age Group Team at the World Triathlon Championships in Vancouver 5-8 Jun 08. None of our results were as impressive as Capt Fawcett's inspiring performance, but we were there "tri-ing" for Canada. The attached photo is of 11061 Don Debienne, 11075 Bob Gebbie, and 6633 Jack Harris. 12186 Tom Keogh was also competing and 4670 Mike Ellis was there in an official capacity. If any other Ex-Cadets competed, I would like to hear from them. Next year the World Championships are in Gold Coast Australia - a warmer venue than Vancouver where temperatures were at 50 year lows. Bob Gebbie is doing two Ironman races this year. One of these 141 mile races in a year is a major accomplishment, doing two in one year is heroic.
Here are the "Boys of 76" results from the 2008 races so far:
Race
Total Time
Age Group Rank
Swim
T1
Bike
T2
Run
Don Oliver Half Iron
5:21:01
10/68
35:14
4:28
2:42:09
3:46
1:55:25
John Victoria Half Iron
5:35:54
12/35
29:23
4:17
2:59:46
1:49
2:00:41
Don Osoyoos Half Iron
5:40:08
10/41
35:06
3:11
2:59:37
1:52
2:00:24
Don Vancouver Olympic Duathlon
times are not splits - running
2:10:10
66/85
9:48 (run)
12:05
?
1:21:43
2:10:10
Bob Vancouver Olympic Duathlon
times are not splits - running
2:05:07
24/64
8:58 (run)
11:09
?
1:23:36
2:05:07
Bob Victoria Half Iron relay
5:02:34
8/37
-
-
2:53:09
-
-