Fury in the skies and on the seas
By Cat George
Peninsula News Review
May 9th, 2007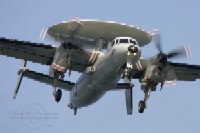 There may be sinking ships and cannons firing, but it's not your everyday game of Battleship. Exercise Trident Fury, hosted by the Maritime Forces Pacific, will bring together an international group of naval, air and ground forces to conduct a simulated war in the skies and seas of BC's west coast for two weeks. Amongst the seamanship, ship handling, combat manoeuvres, air defense, and strike missions, one ship will actually head to its end at sea, and aerial drones and unmanned maritime targets will come down in live fire exercises.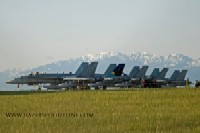 "There's nothing like putting live weapons on target," said Colonel John McManus, who commands the Air Component of Trident Fury. Now in its third year, the exercise aims to prepare troops for potential real-world situations, as well as help American and Canadian forces integrate. One main goal is conducting the Operations Room Officer Course Sea Assessment, which supplies a test of naval officer training.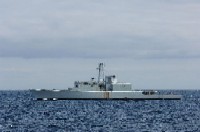 A highlight of this year's exercise will be the sinking of the ex-HMCS Huron off the coast of Vancouver Island. Rather than creating an artificial reef or selling the ship for scrap, the retired destroyer will end its 34 years of service as a target for a live-fire mission. It has taken two years to ready the ship for sinking in order to comply with Environment Canada regulations; chemical storage containers, mercury gauges, fuel tanks, loose paint and flaking rust were all removed before the Huron could descend into 2,000 metres of water. All of the players in Trident Fury, from the aircraft through to ships, will have a chance to take a shot at the Huron, with the sinking blow expected to come from a torpedo on an American submarine.
The more than 2,000 participants in Trident Fury come from as far afield as Australia, Texas, North Dakota and, closer to home, Spokane, Whidbey Island, Comox and Victoria. The Royal Australian Air Force has brought the Wedgetail, an
airborne early warning and control aircraft, one of six Boeing 737 NGs that has been modified for surveillance and air combat capability. The rest of the forces, which include 40 aircraft and eight major warships, are split between Canadian and American representatives. HMC Ships Algonquin, Regina, Vancouver and Sasktoon represent the Canadian naval contingent, while US Ships Shoup, Ingraham, Navajo and Curts, Coast Guard Cutter Alert, and an American submarine which could not be named, have come up from the United States for Trident Fury.
In the scenario prepared for the exercise, a stretch of northern BC represents the Orange team, a Communist country with nuclear powers, while southern BC represents Blue, a powerful democratic country with a growing presence in international politics. Tacticians on both teams will have to take into account the presence of Gold (geographically represented by the United States), a Communist area with an officially neutral position but ideological support for Orange, the opposition forces. The scenario has a backstory, too, with parallels to the current situation in north and south Korea; Blue and Orange were originally one country, but split during a war in 1950-52. The activities during Trident Fury compress six months of real time action into two weeks, escalating from tensions and incidents to full-on simulated warfare. The scenario aims to reflect a realistic real-world situation that forces might potentially face. American and Canadian naval forces are split evenly between the two teams, while aircraft have an opportunity to fly on both sides.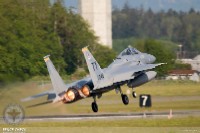 "The biggest value [of Trident Fury] is the chance to integrate with so many different players," said Major John Edwards, call sign "Thug," of the 114 Fighter Squadron with the Oregon Air National Guard. "This is a great opportunity to work with the naval side and also with Canada." Edwards has flown in an F-15 Eagle fighter jet for 10 years. Asked about the match-up between the F-15s and the Canadian fighter jets, the Hornet, he said, "In close combat, the Hornet is very manoeuvrable. If it's well flown, you'd better be flying well too."
Commodore Bruce Donaldson, the Pacific Fleet Commander, who heads up Trident Fury and commands the Maritime Component, admitted that the two weeks of the exercise would be a tiring time for everyone involved. "I think I'll have large suitcases under my eyes," he said. But the point of the exercise wasn't lost on any of the participants. "It's a good exercise," said Air Captain Derek Kauth, who flies a Sea King helicopter, of last year's Trident Fury. The Sea Kings fly search and rescue, utility trips, hauls supplies and people out to sea, and are an important aspect of the anti-submarine warfare efforts. "You get to play with everybody."
© Copyright 2007 Peninsula News Review
From right to left: Canadian Halifax Class Frigate HMCS Regina, American Oliver Hazard Perry Class Frigates USS CURTS and INGRAHAM, Canadian Iroquois Class Destroyer HMCS Algonquin and the American Arleigh Burke Class Destroyer, USS SHOUP patrol the area off west coast Vancouver Island May 9 2007. These five ships along with Canadian Frigate HMCS Ottawa and the refuelling ship, USNS JOHN ERICSSON, are part of a coalition force participating in EX TRIDENT FURY 07
Ships photo and caption from: http://www.canadaka.net/pic-12040.html