Stroke of luck for MARPAC swimmers
Carmel Ecker
Staff writer
The Maritime Forces Pacific (MARPAC) swim team made a splash during the 2001 Long Course National Championships in Seattle Aug. 16 to 19 by setting 15 provincial records.

SLt Heather Beynon of HMCS Calgary, LS Hayley John of HMCS Huron, LCol John McManus of 443 Maritime Helicopter Squadron and Lt(N) Tony Zezza of Fleet School swam against some of the best swimmers from around the world.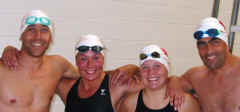 "I knew that we were ready and that we would do well, but nowhere in my wildest dreams did I think we'd set 15 provincial records," said team captain Lt(N) Tony Zezza.

The highlight of the competition was SLt Beynon's gold-medal win in the 200-metre backstroke.

"She just outreached the competition," said Lt(N) Zezza.

SLt Beynon set six provincial records in the 25 to 29 age category, and shattered the 200-metre backstroke record of 2:49.88 with a time of 2:37.65.

LS John nearly matched her teammate with five records for the 20 to 24 age group, including Canadian national records in the 50 and 100-metre backstroke.

"I was fairly satisfied," she said. "I trained hard and it paid off."

Lt(N) Zezza had stronger words for the two swimmers' accomplishments, saying, "SLt Beynon and LS John not only can compete at the international stage, but are the best in the world at their respective events."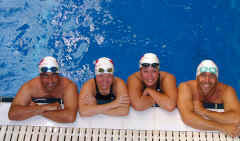 SLt Beynon already took two gold medals at this year's Canadian Masters Championships, and LS John won two bronze medals at the Conseil Internationale du Sport Militaire Swimming Championship in St. Petersburg, Russia in early August.

In Seattle, the four swimmers combined their strengths for the relays, topping the B.C. record for the 200-metre mixed freestyle relay. They were less than a second away from claiming the record for the mixed medley relay.

Lt(N) Zezza set three records of his own in the 50 and 100-metre freestyle and the 50-metre butterfly.

"We peaked for this swim meet," said Lt(N) Zezza.

They were up against more than 1,000 competitors from Mexico, South America, Europe and Morocco, as well as Canada and the United States. All were preparing and ranking themselves for the World Masters Championships in New Zealand next spring, said Lt(N) Zezza.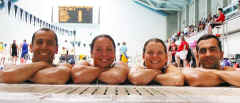 LCol McManus also came from abroad, arriving at the Seattle airport just an hour and a half before his first race. He flew directly to the competition from Penang, Malaysia where he was on board HMCS Winnipeg replacing one of his crew commanders from the Helicopter Detachment.

Two days of travelling and a serious case of jet lag left him feeling like it was 8 p.m. when he jumped in the pool Friday morning.

"I was completely disoriented as far as times and days go," he said.

LCol McManus also couldn't train for the three weeks he was at sea with Winnipeg.

He didn't do as well as he'd hoped because of the time away from training and the jet lag, but that didn't dampen his experience of seeing a level of competition he's never seen in Canada.

"The atmosphere was electric just because they were setting world records every third or fourth final event," he said.